CONWY 2018 BLOG COURTESY OF STEVE HANKEY – WRC.
2018 Conwy plans started in late 2017 with a shout out to all members for volunteers/victims to get on board. The 5 months between making a commitment and it actually happening lulled many an unsuspecting soul to put their name down, whilst resolving to getting themselves fit beforehand.
Next minute and it was upon us.
After a series of incredibly detailed emails and Facebook posts were issued out telling people all the details such as the time to meet, where to drop bags and what route we'd take, there then followed an influx of emails, messages and texts asking what time were we meeting, where did we have to drop bags, and did we have a route in mind !  To be fair, it wasn't as bad as previous years as presumably Rob Bagot has lost his mobile and couldn't remember my email address.
With the room rota compiled, being careful to group together the snorers, drinkers, rubber festish freaks and other likeminded people, all we needed now was the right weather.
About 40 people (a record for the weekend away and indicative of the vast improvement in organisation over recent years) lined up under light drizzle outside Hankey Towers. 3 following cars were required to cover the groups and transport the array of bulging suitcases and holdalls, plus the odd vanity case or two. Peter Howl, Steve Friend and Barry George, all kindly giving up there weekend to watch elite athletes ply their trade.
A group of Zwifters looked smugly down on the others who were still promising to get fit any minute soon, but it was too late !
A forecast of early rain, then sunshine and showers was a welcome change to the previous weekend and with only a small handful 'no-shows' there was soon a race-day feel to the sleepy village of Appleton Thorn. All we were missing was someone warming up on a turbo.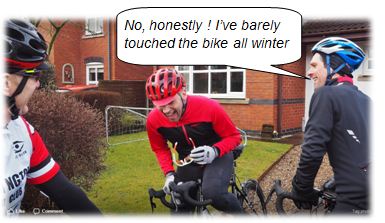 Luckily the race day feel was simulated by the plethora of pre-ride excuses being thrown around…..
All the classics were rolled out, "I've not been on the bike for ages", "I've not done the miles for this"and the timeless "I've had man-flu".  In a bid to convince us further, an unnamed Club Record Holder even went in the second group rather than the big boys group, but no one was being fooled.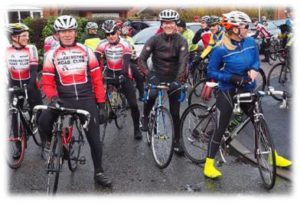 Trev set off with the A Group in tow.  With El Presidenté in attendance, it was a select group that headed off just a couple or fifteen minutes after the intended 9.15am schedule.
Group B contained about 15 reprobates but there were a few bandits in there providing some serious firepower and experience. Dave Wright was the only one who knew the route so hopefully they wouldn't get lost or split up.

Group C got a little twitchy seeing the calibre of Group B but resisted the temptation to leave just as they rounded the corner. Instead they were given well in excess of 45-50 seconds head start. The pursuit ride started and everyone was well behaved. Even the rain had relented.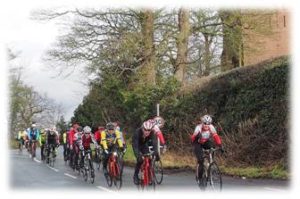 A pleasant ride out through Frodsham, Helsby, Waverton and Saighton was enjoyed by all, with various groups coming together and splitting again but no one isolated.Grouped came together and split up but a peloton of about 25 entered Llangollen for the sprint for the sign. Unfortunately I couldn't see who got it from where I was !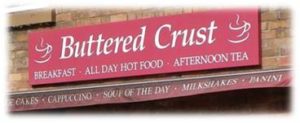 Bikes were thrown against walls, over fences and on the floor in a desperate bid to get a food order in first. The poached-eggless lunch was ordered and copious amounts of tea and coffee were consumed.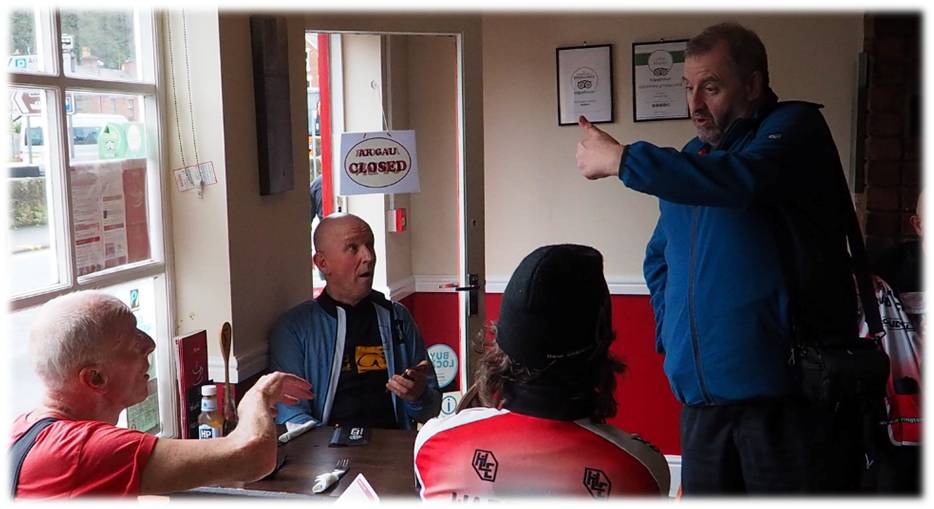 A slightly disorderly roll out from Llangollen meant two groups were then on the road. The second group was a little too large and so pulled over to split into two.
Rolling down the A5 and the rain started, coupled with a nasty cross wind. This was one of the few moments that a bit of winter timber/ballast was a distinct advantage.
Driving the pace down the A5, the second group picked up Darrell Webster who was very commendably emptying the tank and leaving nothing in reserve for Sunday's ride. With the benefit of hindsight, it should have rung alarm bells.
Arriving at Pentrefoelas, one group headed straight down the A5 to Betws–Y–Coed and on to Conwy. One group headed over Neeeeeeeeebo, and then dropped down to Llanrwst to join the same route.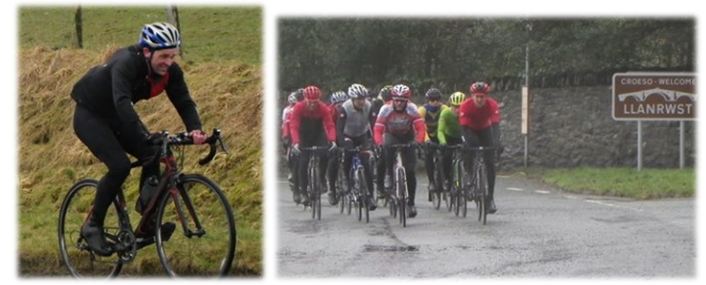 The inevitable burn up started about 5 miles out and bodies were scattered across Wales. Luckily the sun was shining by now, meaning a thirst was being worked-up.
Descending into Conwy, several bikes' auto-pilot systems seemed to naturally head for the Liverpool Arms and a welcome drink on the sea front. It was white wine spritzers and Diet Cokes all round.
Up to The YHA and after a nice/cold shower (depending on what time you arrived) it was down to the restaurant for tea/coffee and cakes/cookies, accurately replicating the Team Sky recovery plan.

A burger, chips and beans evening meal provided a nice lining to the stomach for the evening entertainment.  Before you knew it, Carl Johnston was on the front, leading the pack for the first time of the weekend, this time to the pub.  Standing room only in the world's warmest pub meant it was a quick pint and then a move on for half the team, magnetically drawn back to the waterfront and the Liverpool Arms.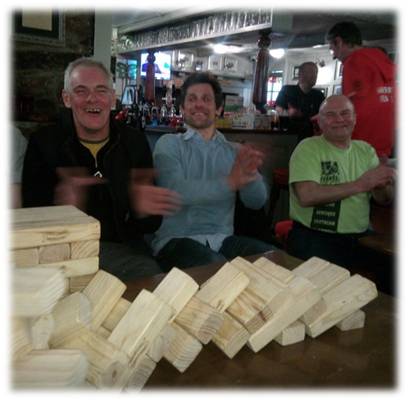 The worlds unluckiest local drunk tried to ask a group of cyclists if they had a spare fag!  This was the cue to move indoors and then the inaugural WRC Jenga World Championships commenced. There will hopefully be a club trophy for this in 2019 as it was a true test of skill, judgment and stamina, all conducted whilst under the influence of performance enhancing substances, not dissimilar to your average TT (allegedly).
The local nutter then inquired if anyone would like a fight, and it took three of us to hold Helen back but things quickly simmered down.
Not sure how it happened but then a series of arm wrestling contests developed thus providing Malcolm the perfect chance to demonstrate his inordinate wrist strength, apparentlydeveloped duringhis lonely years away from cycling, confirming all our previous suspicions that he is the champion Winter W**ker.
Further carbo-loading then ensued at Stavros', but only for those who were quick enough to beat the lights out at 11.30pm. Dave F and Ian R paying the price for having that one last pint!

The Sunday morning brought a dry and bright sky and most people were down nice and early for breakfast at 8.00am.
Then everyone went off to climb into their cycling kit, whilst Darrell was seen strolling suspiciously around the car park. By some logistical miracle, his Audi has appeared in the car park all set for him to drive it home.He therefore got the honour of registering the season's first DNS/DNF.

Three groups again formed and set-off in cheery mood, thankfully the first half mile was downhill.
The plan was to ride back to Pentrefoelas and re-group, and then tackle the Giant of Denbighshire, otherwise known as the Sportsman's.

The climb started and little groups formed, the first of which was lead over the summit by Paul Gibson, looking resplendent with his winter training camp perma-tan. No-one should be that fit in March.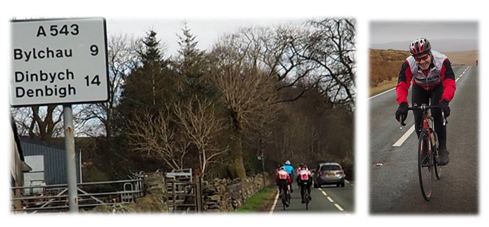 A fast drop into Denbigh and a big group piled into Morrisons for sustenance and a well earned rest. A group of about 14 headed on to Ruthin.

The group who dined at Denbigh then headed home paced by Malc for a daily total of between 85-95miles. Whilst the Ruthin group took it in turns to be used and abused by Paul Gibson to return home with 100 – 105 miles in the legs.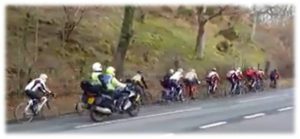 All in all, a good time was had by all, a few pairs of aching legs, lots of laughs, and only a few tears.  Some outstanding rides, both by the experienced guys and also some weekender virgins alike.
Steve Hankey.