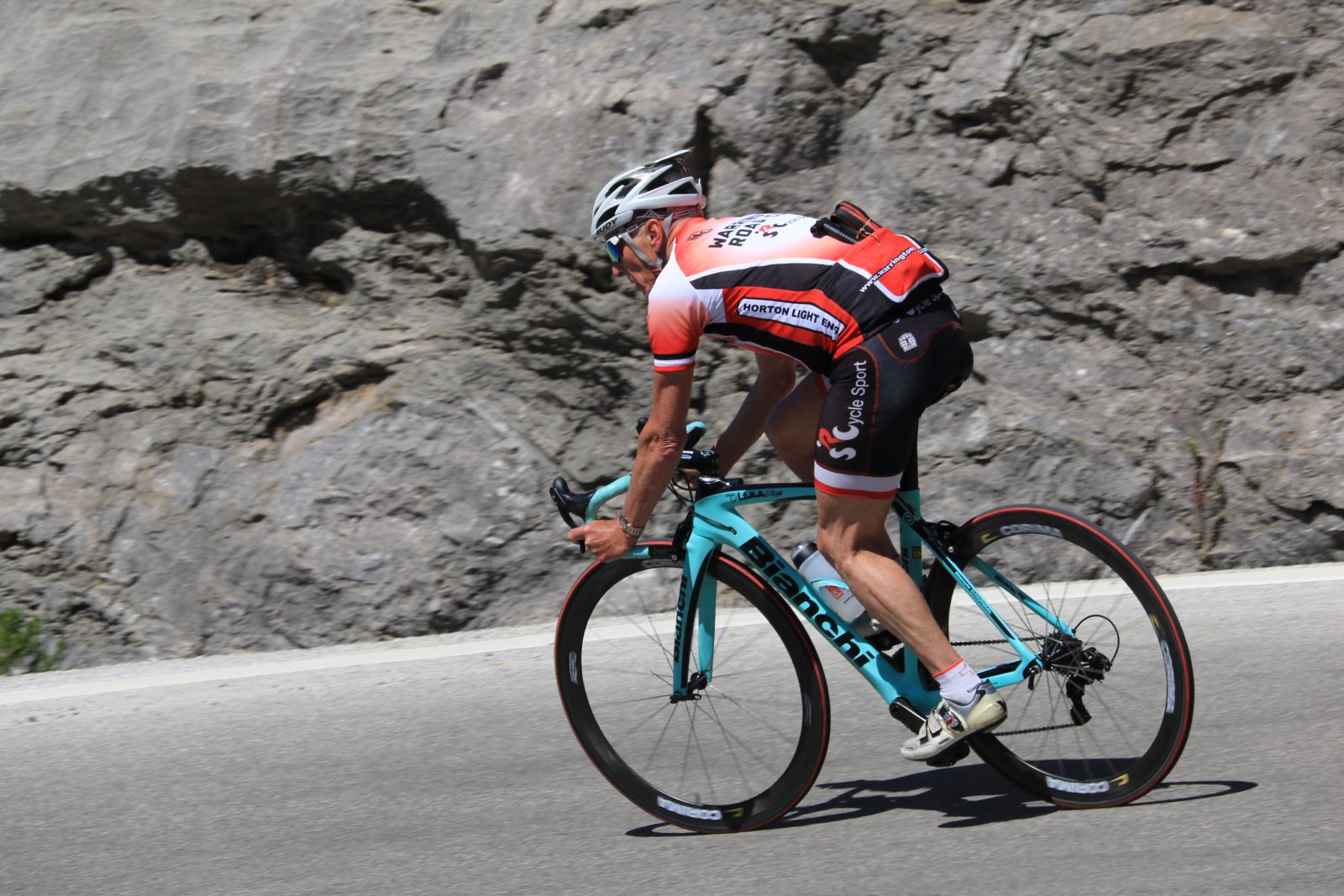 Do I need a road bike?
As a traditional Road Club, we would suggest yes, you need a Road Bike to come on our club rides. We follow the rules of the road, and hence ride safely two a breast where appropriate when in groups and ride to a reasonable pace. Hence, if you had a hybrid for example with flat bars, it won't be suitable. It would also be a bit anti social as you'd need to ride at the back for the group to remain safe on the road. Hence, we'd recommend a Road Bike, or Hybrid, with Road Bike Handle Bars.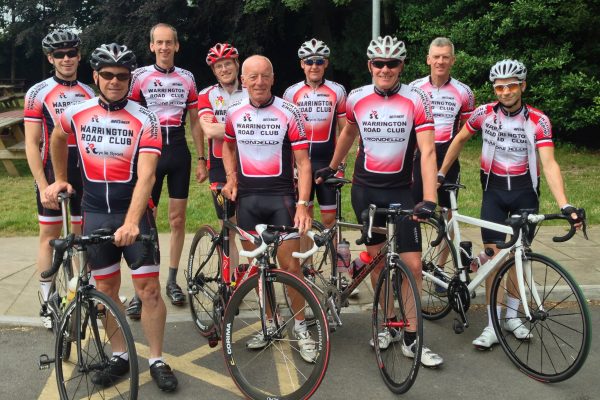 Will I be able to keep up?
It's necessary to have a good level of fitness to be able to join our social rides, and it's another level to be able to join in and get round the chain gangs. Have a look at the average speeds on the Club Runs and Chain Gangs Page and see what you think. Now what you have to remember is, if you are with a group of riders and you are concerned about the pace, when you position yourself at the back of a group, because of the drag effect, you'll be putting less effort in. Hence, if the front of the group is setting a pace of around 18-19 miles per hour, it's likely your effort will be as if you were riding on your own at say 16-17 mph. If you start to struggle on a social ride, don't worry, someone will ride with you to ensure you're OK. No club leaves anybody behind in the middle of nowhere on a social ride, it just isn't done!
Do I have to wear club kit if I join?
No, we'd suggest you wear clothing suitable for road cycling, but you don't have to wear club kit. However the new kit is very good, designed by KALAS who provide kit for a lot of pro teams. Club kit donning our name and sponsors is of top class standard, we highly recommend it, and of course it looks great when we are all riding together.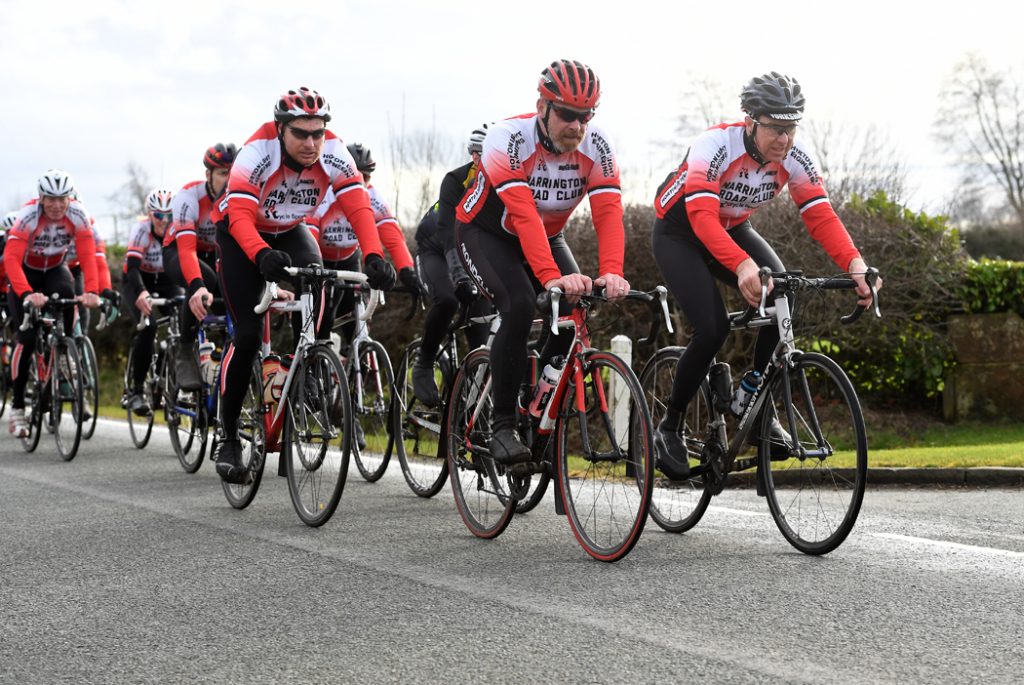 Maintain Your Bike
Please keep your bike maintained and check that it is suitable for riding with a group. If you aren't sure, please feel free to contact us or speak with another experienced rider in the club who can point you in the right direction. If you don't have the experience to maintain your own bike, we'd recommend to take your bike to Ron Spencer Cycles who can assist with bike maintenance and repairs at a good price.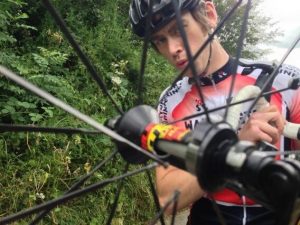 If you want any advice about buying a new bike, again, ask one of the club members or pop in to Ron Spencer Cycles who can help you with your needs.
Winter Rides – Mud Guards
Whatever you ride, in winter we'd really like you to have mudguards to avoid splashing the rider behind you with water, mud and worse (we do ride a lot in the lanes). It is simple etiquette which we'd like everybody to adhere to.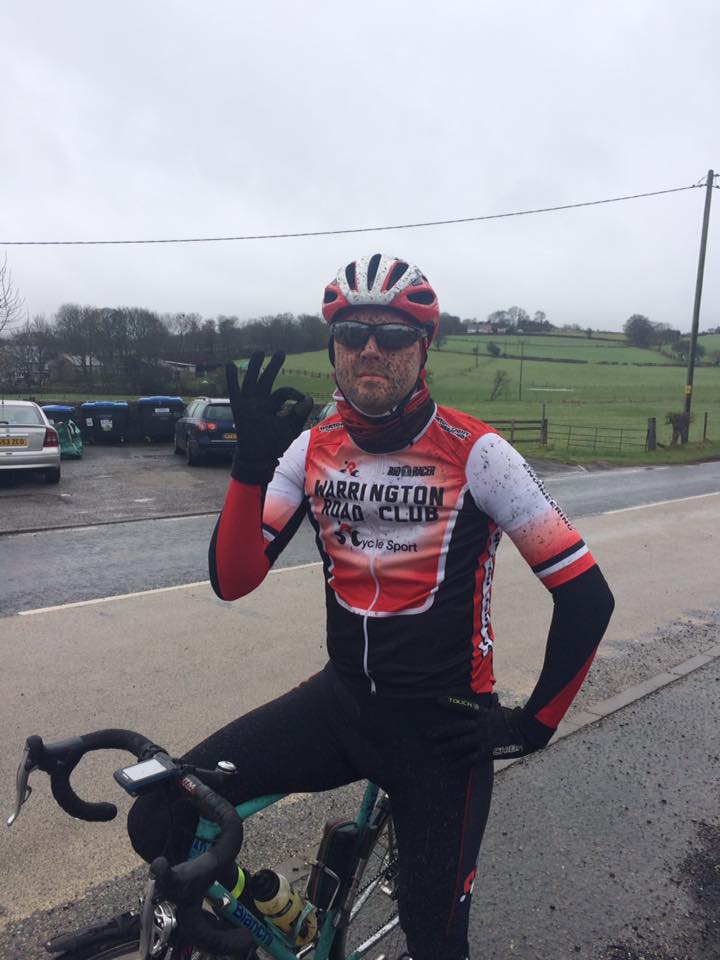 Come On Our Rides Before You Join
If you'd like to come on our rides to try them before you join, you are more than welcome. It may be best to contact us beforehand; we may have something in particular planned on that day.
Do you ride close together on club runs?
Yes, we ride two abreast. If you're new to riding in a group, it can take a bit of getting used to, but it is the best and safest way to ride. However, if you're a bit uncertain, we'd suggest to start at the back and feel your way in to the rides. From that point on wards, you'll soon learn about group riding and increase your confidence.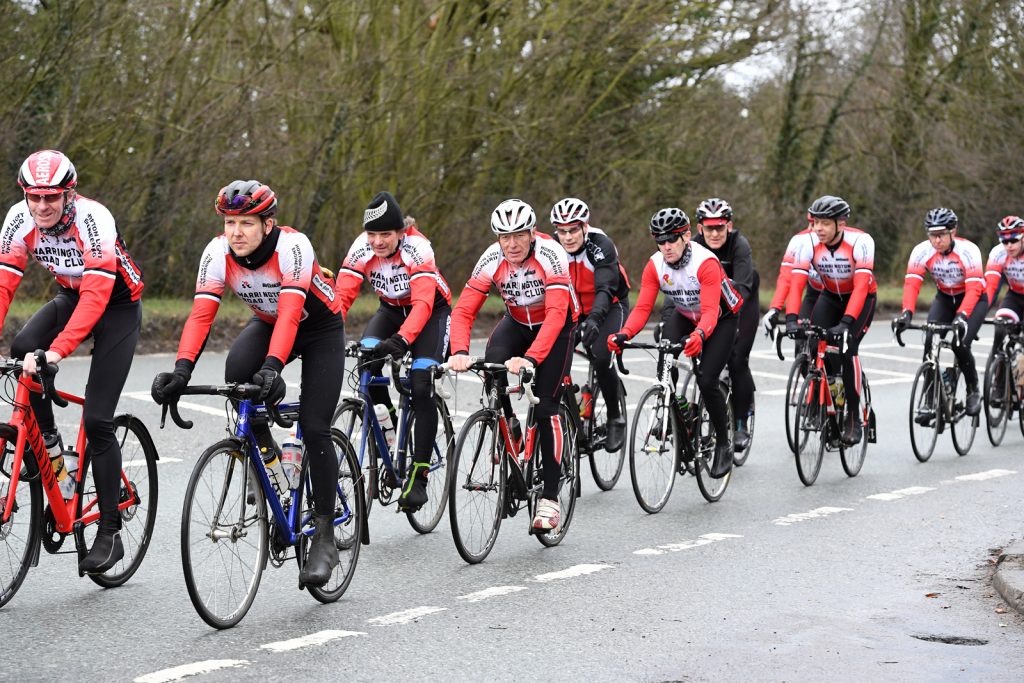 As a member, do I have to race?
No, this is not the case. Our club ethos is to promote cycle races and with that, we have a healthy number of riders who like to race, but racing is in no way compulsory. We obviously encourage those who do want to race, whether this is road racing or time trials. Warrington Road Club have a vast amount of experience in the form of ex Pro Riders and former National Champions so if you are looking to race, we can offer a great deal of advice when you join.
However, many of our members have never raced and have no intention of ever doing so, while others with a racing background are now content to take things more slowly. If you join Warrington Road Club you'll find a huge depth of cycling experience of all branches of the sport going back over many years and you can pick and choose how you go about this great hobby as you see fit.
Do I have to help out at events?
We depend on volunteers to enable us to promote races and other activities. If you are a member, we ask you to assist in a minimum of one event in whatever way you can. This could be by marshalling at a race, catering, handing out race numbers or helping with the time keeping.
Insurance
We strongly recommend that you take out appropriate third party insurance. You can join British Cycling or Cycling UK as they both include 3rd party insurance, or feel free to look out for any other 3rd party insurers.
Please refer to our risk assessment in the joining section.
If you have any other questions, please do not hesitate to get in touch. We're looking forward to meeting you.
Click the Club badge Below to go back to the Home Page.