This is the first of four Open Time Trial events that Warrington Road Club organise throughout the season, the first being a 50 Mile Individual Time Trial in memory of Harry Barker who founder the club in 1923.
This was held on the 6th of June on the J4/16 circuit in Cheshire which encircles the roads around Jodrell Bank three times with members entering from throughout the region and country of any club affiliated with the Cycling Time Trials Organisation . With a total of 63 riders entering, some well known names within the cycling circuit appeared on the starting sheet. Two current and former National Champions in cycling events were in the line-up such as Warrington Road Clubs own club president Glen Longland and Andy Wilkinson from Port Sunlight Wheelers. Both riders are former and current National Time Trial Record Holders and Champions. Other riders of note who were expected to put in good times were Charles Taylor of South Pennine Road Club, Robert Hayes from Manchester Wheelers, Brett Harwood from Terry Wright Cycles RC, Neil Skellen from Team Swift and Darren Mairnis from Coveryourcar.co.uk RT. Warrington Road Club finishing riders were represented by Ian Haddock, Mike Jones, DavidWright and the club President, Glen Longland.
With no issues with the circuit and everything going to plan at the Head Quarters and Cranage Village Hall, the race was good to go despite extreme wind conditions with gusts up to and over 30 mph.
The first rider off at 12:07 midday was Warrington Road Clubs Mike Jones, each rider setting off a minute apart with the final rider setting off at 13:10 who was favourite Andy Wilkinson from Port Sunlight Wheelers. The 50 mile circuit is a tough rolling course that incorporates almost 3 x laps starting at Twemlow green, circumferences Jodrell Bank and finishes on the 3rd lap on the A50 near Cranage Village Hall. In such windy conditions, the riders would suffer at least half of it with the wind being a hindrance for a number of miles directly in to their faces.
Despite the windy conditions, some of the finishing times were very impressive to say the least. Winning Rider Brett Harwood (pictured) from Terry Wright Cycles RC finished with an awesome 01:46:23 over the 50 Miles. This is an average speed of 28.19 mph for 50 Miles. 2nd place came Charles Taylor of South Pennine Road Club and 3rd was Andy Wilkinson from Port Sunlight Wheelers with times of 01:47:00 and 01:47:23 respectively. These three riders times were very impressive, taking a number of minutes from the next rider Robert Hayes from Manchester Wheelers in 4th who did still a very impressive 01:54:20 in those conditions.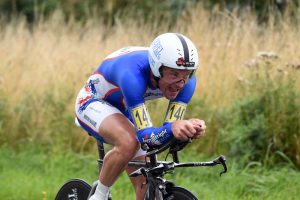 First Lady over the line was Jill Wilkinson from Chester Road Club with 02:09:15 and winner of the Vets Standard Handicap time was Fred Wardle from Macclesfield Wheelers, who did a PB by five and a half minutes finishing with 02:21:25.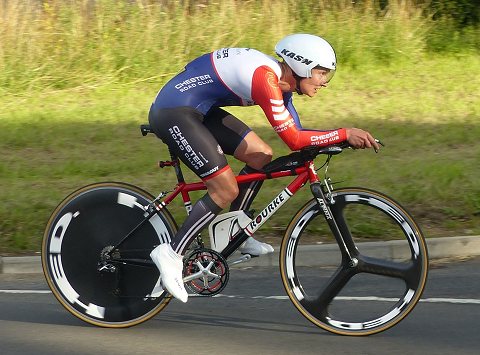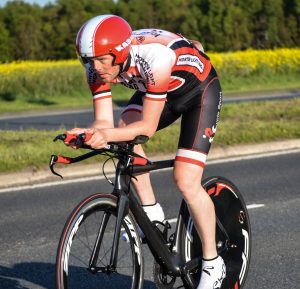 From the Warrington Road Club Riders, Club President Glen Longland finished with a time of 02:03:34 which gave him 11th place on the day. Ian Haddock completed his first ever 50 Mile Time Trial with a 02:04:58 in 14th place.
David Wright finishing in 16th with 02:05:58 and Mike Jones completed his ride with a 02:27:31 in 40th.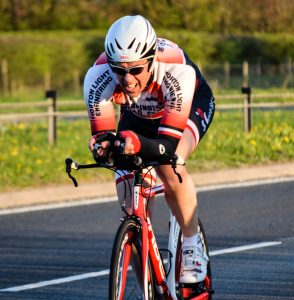 Special thanks from Warrington Road Club to go volunteers Darrell Webster and Louise Cumming for organising the event, the Time Keepers, Road Marshalls,and of course the riders for making this annual event such a success.
Warrington Road Club's other open events are as follows:
Warrington Road Club Open 4 Man Team Time Trial, 25 Mile – J2/9 – 18th June
Ron Spencer Memorial Open 25 Mile Individual Time Trial, 25 Mile, J2/9 18th July
Warrington Road Club Open 2 Man Team Time Trial, 25 Mile – J2/9 – 26th September.
Submitted by Ian Haddock 11-06-2015
** This was the full report submitted to the Warrington Guardian.