Warrington Road Clubs Open Four Up Team Time Trial Event is one of the most popular and sort after events in the Local Time Trial Cycling Calendar which proved to continue this year as almost thirty teams from the region entered in this year's competition.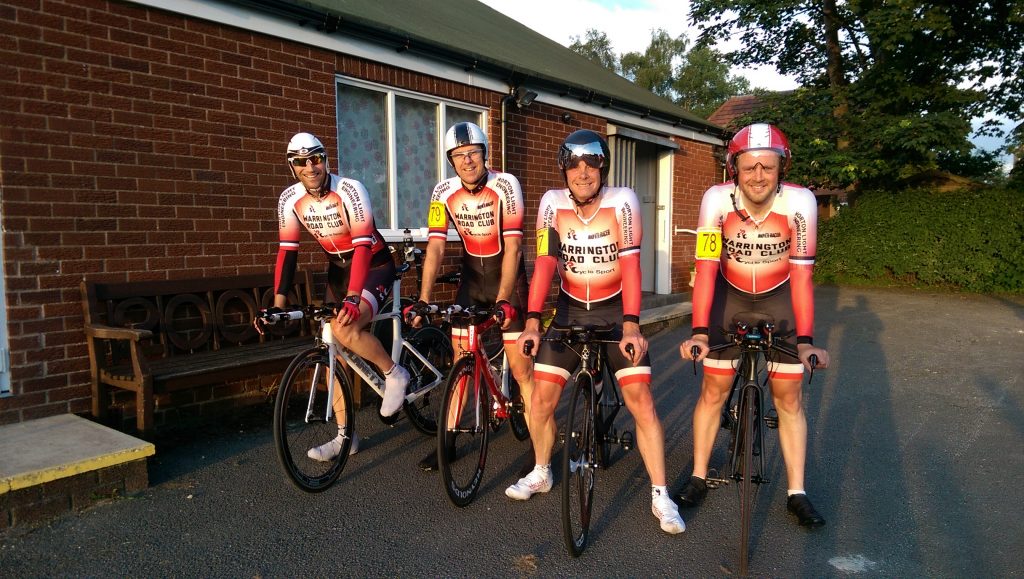 Some of the region's best riders and teams at this level return to the annual race with last year's winners Coveryourcar.com facing strong competition from Velotik Racing Team and Liverpool Century amongst others took place on the 23rd June.
This years winners were Velotik Racing Team who produced an impressive 51 minutes and 17 seconds who beat Liverpool Phoenix in to top spot by 1 minute and 11 seconds who finished at 52 minutes and 28 seconds. The Warrington Road Club team in the event were represented by individuals who are all from or live in the Warrington district, riders David Wright, Steve Hankey, Ian Haddock and Paul McGowan. They finished am impressive 7th place with a time of 55 minutes and 1 second and improved on last years 13th time by nearly two minutes in what was noted by race marshalls as one of the well organised teams out on the course.
Fastest team with a Lady were Weaver Valley Cycling Club who just beat Liverpool century Team by 13 seconds with a winning time of 58 minutes and 20 seconds.
The week before Warrington Road Club ran the annual road race again on the popular Antrobus circuit under TLI rules and regulations with over 70 riders taking place. Warrington Road Club were well represented by Paul Gibson, Dave Friend, Rory Crone in Race 1 and Mike Jones in Race 2 who rode well throughout the race and finished in the main bunch to compete the sprint. Race 1 was won by Ryan Pike from team High on Bikes who won the close sprint to the line by half a wheel to Dan Whelan from a 9 man break away. Whilst in Race 2, Stephen Wilkinson from Team Wheel Guru won the over 50's race by a good distance at the final sprint in the 6 man break in the over 50's.
Race 1 Winner and holder of the Mad Hatters trophy for 1 year in the under 50's race:
1st Ryan Pike – High on Bikes
2nd Dan Whelan – Onimpex Bioracer
3rd Steven Fidler – Dave Hinde RT
4th James Farrington – Avenista racing team
5th Paul Lally – Onimpex Bioracer
6th Simon Bridge – Manchester Bicycle Club
Race 2 Winner and holder of the Derek Devonport Memorial shield for 1 year in the over 50's race:
1st Stephen Wilkinson – Team Wheelguru
2nd Nigel Kershaw – Team Kuota/Spinergy/Gsg
3rd John Crook – Liverpool Mercury (Dolan) CC
4th Carl Finney – St Helens CRC
5th Steve Davies – Onimpex Bioracer
Submitted by Ian Haddock 4th July
** This is the full report submitted to the Warrington Guardian,