On the 27th January at Lymn Hotel, Warrington Road Club held their 94th Annual Dinner and Presentation Award evening in honour of the celebrating the previous years riders achievements, but also the year in general for the club.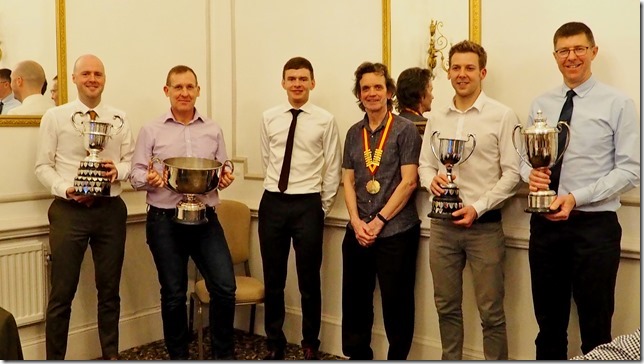 The Club were honoured with the presence of Lowton born Pro Rider Richard Handley currently riding for UK Pro Team Madison Genesis as well as our Club President Glen Longland and Chairman Trevor Horton. Great start to the year this weekend, our 94th Annual Dinner and Prize Presentation evening on Saturday followed by the Cycling Weekly ride for the programme in the Comic featuring our club in the next couple of weeks.
The Dingsdale Perpetual Trophy (the rider returning the best average speed in 10, 25, 50 and 100 mile time trials on J, D, L, courses only was Ian Haddock with a speed of 26.23mph who was also awarded a Club Silver Medal for a 10 mile PB of 20 minutes 52 seconds for a 10 mile ride.
The Veterans Championship Trophy – the veteran club rider with the best two standard times from 10, 25 & 50 miles on J-D-L courses only (Plus 01:05:03) and the The Ron Spencer Trophy – the fastest 100 mile TT by a club rider (04:11:55) and Club Silver Medal for this distance was David Wright.
The Meadowcroft Trophy, the highest number of points gained in open road races was Paul Gibson after a succesful year finishing in the top 6 places in nearly all of his races.
And finally for the The P.Robertson Trophy – the fastest 10 mile TT by a club rider (19:56); The Willochrome Trophy – the fastest 25 mile TT by a club rider (50:37 – Club Record), The Ron Spencer Memorial Trophy – the fastest club rider in the Memorial 25 mile Time Trial (10 Mile This Year – 21:53) and finally The Charlie Johnson Memorial Trophy – the fastest 50 mile TT by a club rider 01:55:06 was Steve Hilton who completed another record breaking year in the club.
Pictured left to right at Ian Haddock, Steve Hilton, Guest of Honour Pro Rider Richard Handley, Club President Glen Longland, Paul Gibson and David Wright.
Warrington Road Club Report
Submitted by Ian Haddock 28-01-2018