The first of several Warrington Road Club weekends planned for 2014 took place last weekend on the 8th and 9th of March. The trip, excellently organized by Carl Johnston, began with 21 riders leaving Horton Towers on Saturday morning. Peter Howl graciously drove all of our bags to the hostel.
The route took us to Edwinstowe on the edge of Sherwood Forrest with 93-ish miles on day one and 82-ish on the way back for a total of 175 miles and a little shy of 11,000 feet of climbing:
Club president Glen Longland was on the back of a tandem since, it turns out, he and pilot Dominic Irvine (https://twitter.com/DomIrvine) are making an attempt on the End to End record. On the evidence of this weekend they look to have a pretty good chance! Dom told me that tandems don't go up hill too well, but it didn't take long on a very windy Cat and Fiddle for them to disappear from my view. But all things are relative and down hill they were going at around double my speed…
We re-grouped at the top of Cat and Fiddle:
After Cat and Fiddle, the plan was to through Harpur Hill, but someone who shall not be named (Rob) went straight down into Buxton so we all had to follow. Lunch was at Hassop Station near Bakewell: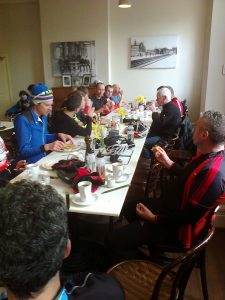 After lunch it was time to apply the normal cyclists navigational technique of "getting lost". Dave Wright had a bit of paper – it may have been a map. Maybe. Eventually, those of us with Garmins decided to use them before it got dark. Aside from the tandem and one or two others who decided to stick with the "getting lost" technique and went off ahead. And got lost.
Edwinstowe boasted three magnificent pubs one of which had an Elvis impersonator and another something called a "disco". I think they had them in the 80's. It was a little bit "you'll never leave". Everyone appeared to be still functional in the morning.
The way home briefly involved dual carriageways. Testers… The tandem had a puncture so we waited – eventually, several miles down the road. So Carl took some snaps:
Lunch was at Blaze farm which was… entertaining. First sunny day of the year, queue out of the door for ice-cream, kitchen in meltdown. So a leisurely lunch of around an hour and a half. Then home through the lanes being towed by the super-speed tandem.
In summary: great weather, excellent trip. Thanks to Carl. Dom made a video:
Next up – David's Tour de France road trip!